Comparable packages are frequent within the startup world and within the creator economic system. For instance, social media corporations can use accelerator packages not solely to assist rising stars however to lure these creators—and their audiences—to the corporate's platforms. Genies believes avatars can be an important a part of the web's future and is equally utilizing its program to encourage creators to launch manufacturers utilizing Genies' platform.
"I believe us with the ability to work fingers on with this subsequent period—this subsequent technology of designers and entrepreneurs—not solely will get us an opportunity to know how individuals wish to use our platform and instruments, but additionally permits us to nurture these sorts of creators which might be going to exist and proceed to construct inside our ecosystem," mentioned Allison Sturges, Genies' head of strategic partnerships.
DIY Collective's preliminary cohort will embody roughly 15 individuals, Sturges mentioned. They are going to spend three weeks on the Genies headquarters, collaborating in workshops and listening to from CEOs, trend designers, tattoo artists and audio system from different industries, she added. Genies will present creatives with funding to construct manufacturers and audiences, although Sturges declined to share how a lot. By the tip of this system, members will be capable of promote digital items via the corporate's NFT market, The Warehouse. There, individuals should purchase, promote and commerce avatar creations, corresponding to wearable objects.
Genies will settle for functions for the debut program till Aug. 1. It's going to kick off on Aug. 8, and former expertise in digital trend and 3D artwork growth shouldn't be required.
Sturges mentioned that this system will train individuals "in regards to the instruments and capabilities that they are going to have" via Genies' platform, in addition to "how to consider constructing their very own avatar ecosystem manufacturers and even their very own viewers."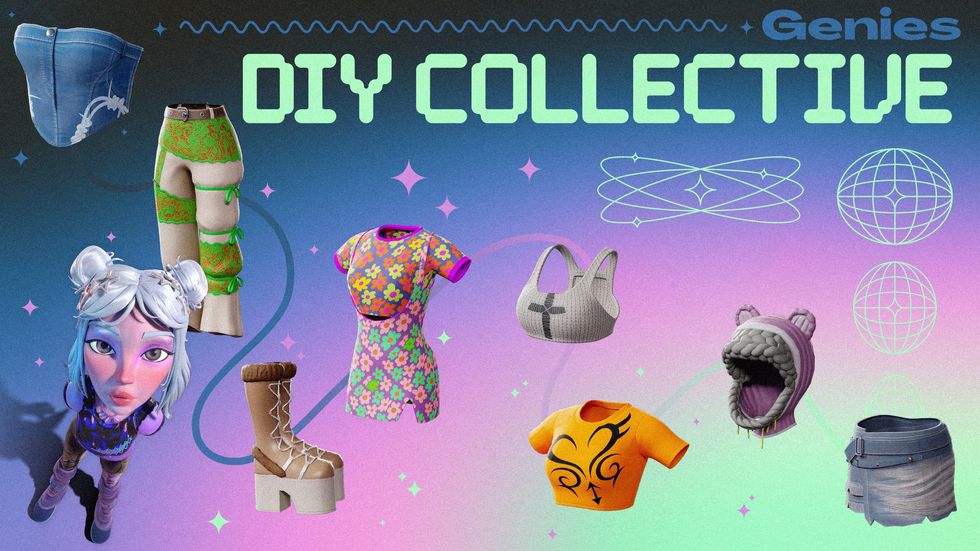 Picture courtesy of Genies
Based in 2017, Genies established itself by making avatars for celebrities from Rihanna to Russell Westbrook, who've used the net lookalikes for social media and sponsorship alternatives. The 150-person firm, which has raised not less than $250 million thus far, has secured partnerships with Common Music Group and Warner Music Group to make avatars for every music label's total roster of artists. Former Disney boss Bob Iger joined the corporate's board in March.
The corporate desires to increase avatars to everybody else. Avatars—digital figures that characterize a person—would be the manner individuals work together with one another within the 3D digital worlds of the metaverse, the much-hyped iteration of the web the place customers might at some point work, store and socialize. An organization spokesperson beforehand informed dot.LA that Genies has been beta testing avatar creator instruments with invite-only customers and offers creators "full possession and commercialization rights" over their creations accumulating a 5% transaction price every time an avatar NFT is bought.
"It is a chance for individuals to construct their most expressive and genuine self inside this digital period," Sturges mentioned of avatars.
The corporate's name for creators might be an indication that Genies is near rolling out the Warehouse and its instruments publicly. Requested what these avatar instruments may appear like, the startup went considerably quiet once more.
Allison Sturges mentioned, "I believe that is in all probability one thing that I will maintain off on sharing. We can be rolling a few of this out quickly."
From Your Website Articles
Associated Articles Across the Net
window.REBELMOUSE_ACTIVE_TASKS_QUEUE.push(function(){
REBELMOUSE_STDLIB.createElementChangeListener('.postblok .social-author,.widget .main-author',function(item){ item.insertAdjacentHTML('beforebegin','
')
})
});
window.REBELMOUSE_ACTIVE_TASKS_QUEUE.push(function(){
window.REBELMOUSE_STDLIB.loadExternalScript("//s3.amazonaws.com/downloads.mailchimp.com/js/mc-validate.js", function() {
});
});
window.REBELMOUSE_ACTIVE_TASKS_QUEUE.push(function(){
(function($) {window.fnames = new Array(); window.ftypes = new Array();fnames[0]='EMAIL';ftypes[0]='email';fnames[3]='ADDRESS';ftypes[3]='address';fnames[4]='PHONE';ftypes[4]='phone';fnames[5]='BIRTHDAY';ftypes[5]='birthday';fnames[1]='MMERGE1';ftypes[1]='text';fnames[2]='MMERGE2';ftypes[2]='text';fnames[6]='MMERGE6';ftypes[6]='text';}(jQuery));var $mcj = jQuery.noConflict(true);
});
window.REBELMOUSE_ACTIVE_TASKS_QUEUE.push(function(){
var scrollBefore = 0; var popup = document.querySelector('.pop-up-content'); var close = document.querySelector(".pop-up-content .close"); var fired = false; var halfFrameHeight = window.innerHeight / 2;
close.addEventListener("click", function() { popup.classList.add("hidden"); })
var now = new Date().getTime(); var setupTime = localStorage.getItem('setupTime'); if (setupTime == null) { localStorage.setItem('setupTime', now); window.addEventListener('scroll',function(e){ const scrolled = window.scrollY; if(scrolled > halfFrameHeight && fired === false){ popup.classList.remove("hidden"); fired = true; } }) } else { if(now - setupTime >= 2592000000) { localStorage.clear() localStorage.setItem('setupTime', now); window.addEventListener('scroll',function(e){ const scrolled = window.scrollY; if(scrolled > halfFrameHeight && fired === false){ popup.classList.remove("hidden"); fired = true; } }) } }
});
window.REBELMOUSE_ACTIVE_TASKS_QUEUE.push(function(){
function closeit(X) { document.getElementById(X).style.display = "none"; }
function openit(X) { document.getElementById(X).style.display = "inline-block"; document.getElementById("search_big").focus(); console.log("milos"); }
document .querySelector("#dot_search_icon") .addEventListener("click", function (E) { document.querySelector("#dot_search_close").style.display = "inline-block"; document.querySelector("#dot_search_icon").style.display = "none"; openit("search_modal"); console.log("milos"); });
document .querySelector("#dot_search_close") .addEventListener("click", function () { document.querySelector("#dot_search_icon").style.display = "inline-block"; document.querySelector("#dot_search_close").style.display = "none"; closeit("search_modal"); });
});
window.REBELMOUSE_ACTIVE_TASKS_QUEUE.push(function(){
window.tagsItem = customTags(0);
});
window.REBELMOUSE_ACTIVE_TASKS_QUEUE.push(function(){
if(document.querySelector('.dot_duals_1')){dual_box('dot_duals_1');}
});
window.REBELMOUSE_ACTIVE_TASKS_QUEUE.push(function(){
!function(f,b,e,v,n,t,s) {if(f.fbq)return;n=f.fbq=function(){n.callMethod? n.callMethod.apply(n,arguments):n.queue.push(arguments)}; if(!f._fbq)f._fbq=n;n.push=n;n.loaded=!0;n.version='2.0'; n.queue=[];t=b.createElement(e);t.async=!0; t.src=v;s=b.getElementsByTagName(e)[0]; s.parentNode.insertBefore(t,s)}(window, document,'script', 'https://connect.facebook.net/en_US/fbevents.js'); fbq('init', '140762323937999'); fbq('track', 'PageView');
});
window.REBELMOUSE_ACTIVE_TASKS_QUEUE.push(function(){
document.querySelectorAll('.job-wrapper .color-inherit') .forEach(function(elem) { elem.setAttribute('target', '_blank'); })
});