Here are Diablo IV's best side quests!
Diablo is back in the game world, and before we go after Lilith across the vast new realm of Sanctuary, we need to help the scared and poor people who live there. There are a lot of side quests in Diablo 4 that take players away from the main story, and it's a good idea to do a few of them, even if it's just to get some extra gold.
Some of these side quests are given to you by random NPCs you meet early on in your travels. Others are secret quests that you can only get from random drops, and still others are long chains of quests that tell their own stories. Here are some of the best ones to finish when you need a break from Heaven and Hell's final fight.
Secret Of The Spring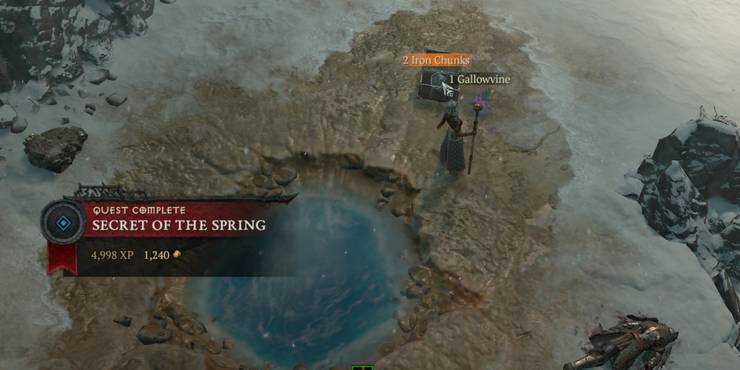 The wilds of Kylsik Plateau hide a lot of strange and wonderful stories, and one of them is the Secret of the Spring. It seems like a simple quest at first, but there's a catch—and it's not about how good you are in fight.
You can find a Discarded Note with a mysterious message: "Beacon of warmth in winter's embrace, patience rewarded by nature's own grace." First, go to the northeast and find the steamy hot spring. Then, stand next to it and use the /wait action to make a chest appear.
Cries Of Innocence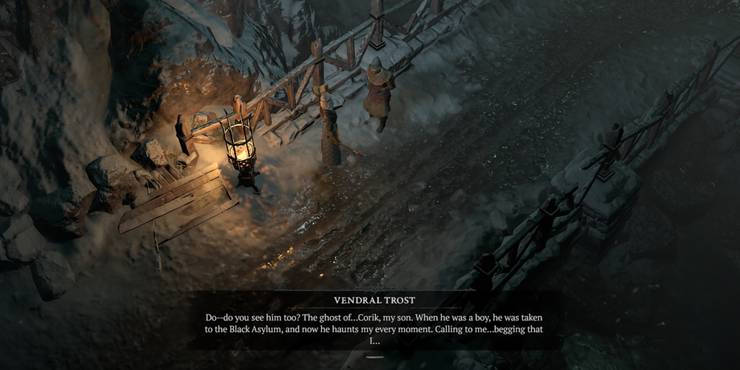 This is a harder quest for players who want a longer story and a great challenge. It's also a scary ghost story that takes place in an old hospital that's been haunted. You can find Vendrell Trost on a bridge just past the Eastern Gatehouse of Kyovashad. He is sad about the ghost of his son, Corik, who won't stay still.
This quest's mini-dungeon is where you finish it. It has loot, high-level enemies, and a quest of its own. It's called the Black Asylum, and it's in the middle of the Chilling Expanse.
Chain Of Possession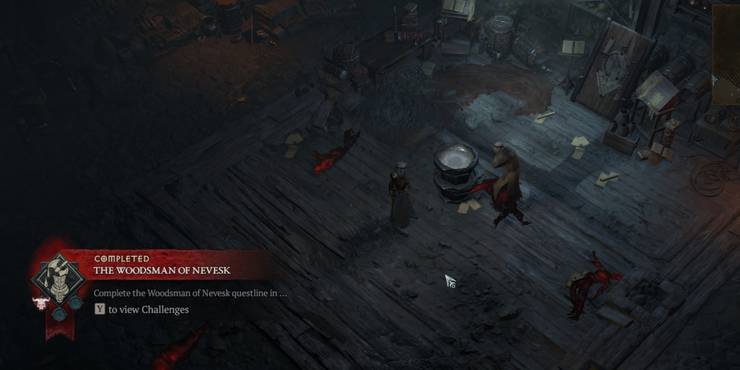 When you saw this poor person giving a quest outside of his humble home, you probably didn't think it would lead to a fight with a barbarian who was possessed and an enchanted axe. This is a fun side quest with a tough fight at the end that catches the player by surprise. The rewards, plot, and achievement make it worth doing, though.
In Diablo 4, a challenge is an award, and The Woodsman's Axe is the name of the one you get when you finish this short chain of quests.
Malady Of The Soul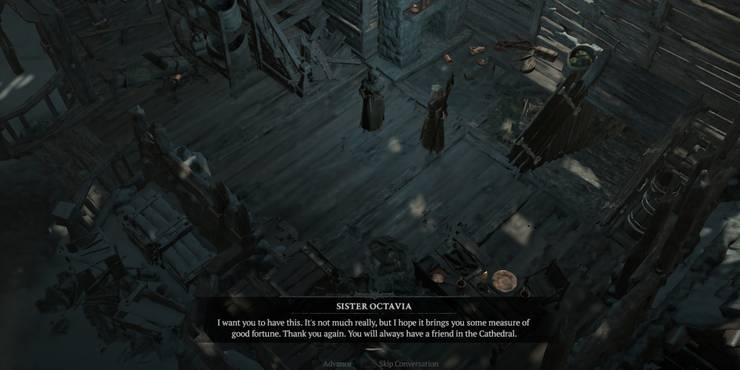 This quest starts the Sister Octavia quest chain, which has two more steps and an interesting story about a monster taking over a person. You can find her in a Kyovashad alley, so this is usually one of the first side tasks most people find.
It's easy to explain what needs to be done, but not so easy to do. Your goal is to keep the evil forces away from Sister Octavia while she does an exorcism.
You will get a stash of herbs, some gold, and the chance to meet Sister Octavia again for more terrible adventures.
The Dread Martyr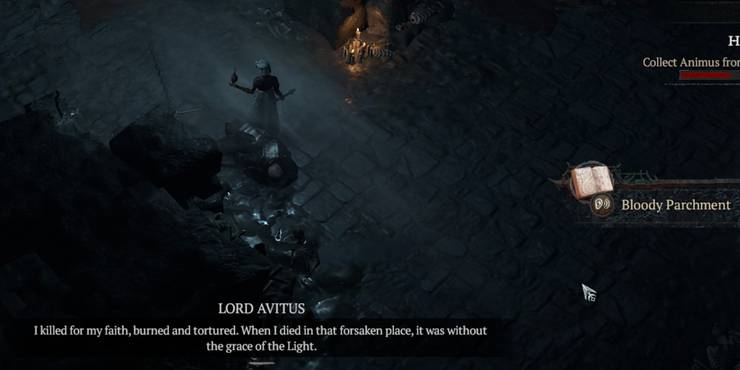 On the empty roads of the Frigid Expanse in the Fractured Peaks, there are all kinds of sad stories, and this is one of them. The Dread Martyr is easier to find than most other secret quests. Instead of being on a random corpse or in a tree trunk, it is on a dying knight in shiny but badly damaged armor who wants to give you his last request.
Before he dies, his name was Sir Crowmwell, and he begs the hero to go kill Lord Avitus, who used to be his boss. He is in a prison called the Sacred Ossuary, which is just as creepy as it sounds.
This isn't a long quest, but it's hard and there are a lot of things to take from it.
Ravenous Predator's Offering
When you're wandering in the northern wastelands of Scosglen's far north, you'll find a random body with the name "Slain Wanderer." Don't think this is just another lost tourist and walk by, because if you check the body, a cache called the Ravenous Predator's Offering will drop. Get it to start the quest.
It's easy to finish this Tunnel Rush quest, and once the cache is full, you'll get cash and health pots, which are very useful. Most caches have useful things in them, which is great, but this prize is different and more useful in the wilderness right away.
The Starving Strand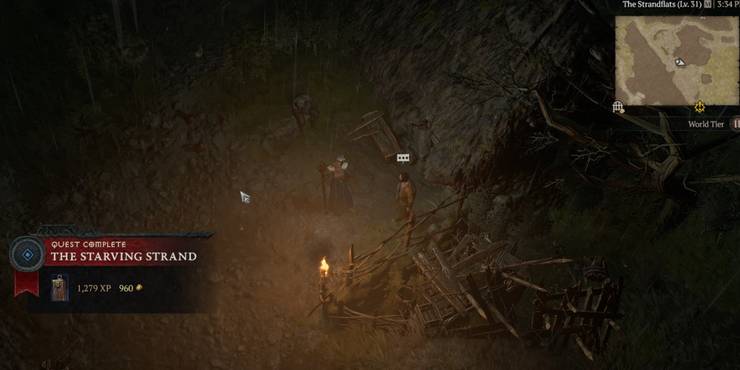 It's time to do your good act for the day and help some people in need. Life is hard in Wailing Hills these days, and when you first get there, you'll meet a sad person named Baltair.
He wants to send his family some much-needed food, but he can't get out of town.
He wants you to give him the package. It's a simple quest to deliver something, but it's a good way to gain reputation and visit the Strand, a zone to the southeast.
Better Days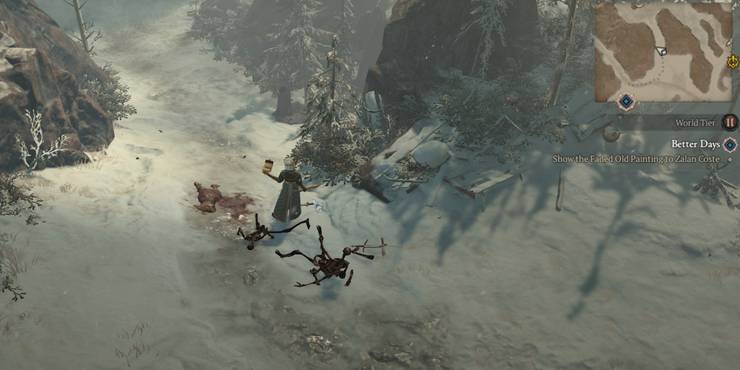 The sad name of this quest refers to a better, more peaceful time that is long gone, but you can find a piece of it in the wilderness of Fractured Peaks. Wanderers in the Dobrev Taiga who loot every dead body, chest, tree trunk, and cairn they see will finally find the Faded Old Painting.
The quest starts when you take the painting, and it's easy to do the simple job or give the painting to Zalan Coste in Margrave. The picture was made by his mother, and he's glad to see it again, but he begs you not to tell anyone about the offensive image.
He also says you can bring him any other interesting things you find, so there may be more things to find in the future.