The first reviews have surfaced for Apple's new Studio Display, and one common point among reviewers was that the built-in webcam's image quality ranges anywhere from an "old BlackBerry" to downright "awful" in their hands-on testing.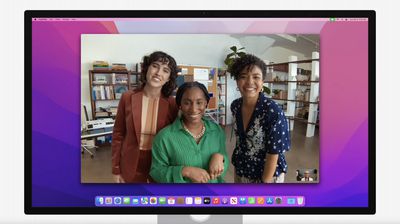 The Studio Display features a 12-megapixel Ultra Wide front camera that can be used for the likes of FaceTime and Zoom calls. While the camera is a welcomed addition compared to the webcam-less Pro Display XDR, reviewers have criticized the image quality.
The Wall Street Journal's Joanna Stern:
You can understand why I anticipated that the Studio Display's webcam would be the GOAT (Greatest of All Time). With a 12-megapixel camera and the A13 Bionic chip, it should be on par with the front-facing camera of an iPhone 11 Pro.

Yet Apple's camera consistently produced grainy and washed-out images. There was so much missing detail in some of the shots that it reminded me of the camera on my old BlackBerry. On the plus side: No one could see my frizzy hair.
The Verge's Nilay Patel:
The bad part is that I have no idea what's going on with this webcam. Apple has a long history of producing amazing images with 12 megapixel sensors and A-series chips, and for some reason this thing just looks awful.

Actually, it looks awful in good light, and downright miserable in low light. I've tried it connected to the Mac Studio and on my MacBook Pro running macOS 12.3, and on both machines it produces a grainy, noisy image with virtually no detail. I tried it in FaceTime, in Zoom, in Photo Booth, in QuickTime – you name it, it's the same sad image quality. Turning off the Center Stage feature that follows you around the room doesn't help. Turning portrait mode on and off doesn't help.
In response to inquiries about the webcam's quality, an Apple spokesperson told both Stern and Patel that Apple "discovered an issue where the system is not behaving as expected" and will be "making improvements in a software update." Apple did not specify what the "improvements" will be made, and no timeframe was provided for the update.
We've rounded up reviews of both the Studio Display and the Mac Studio for those interested in a hands-on look at both new products.
Related Stories
Apple Studio Display Runs Full Version of iOS 15.4
The Apple Studio Display runs a full version of iOS 15.4, Daring Fireball's John Gruber has highlighted. In System Information, under "Graphics/Displays," the Studio Display's software can be seen, showing that it runs "Version 15.4 (Build 19E241)." This is the exact same build number as iOS 15.4 and iPadOS 15.4, indicating that the Studio Display runs the full version of iOS. The Studio…
Apple's Studio Display vs. LG's UltraFine 5K Display
With the unveiling of Apple's new 27-inch 5K Studio Display earlier this month, it immediately drew comparisons to LG's similar UltraFine 5K display that's been on the market for a number of years. Subscribe to the MacRumors YouTube channel for more videos. The LG display is $300 cheaper than the Studio Display, and while availability has been spotty, LG says it will continue to be available…
Apple Unveils $1,599 27-Inch 5K 'Studio Display' External Monitor
Apple today unveiled the 27-inch 5K "Studio Display" external monitor, alongside the new, high-end Mac Studio desktop computer. The Studio Display features an all-screen design with narrow borders in a slim, all-aluminium enclosure like the 24-inch iMac. The display can be tiled up to 30 degrees thanks to its built-in stand. To customize the display, customers can choose a more versatile, …
Apple Confirms Studio Display Will Work With PCs, But With Some Caveats
Apple has confirmed to MacRumors that the brand new Studio Display will work when connected to PCs, but critical new features of the display will not carry over and the experience will be lacking compared to using the display with a Mac. Features that require macOS, such as True Tone, will not work when connected to PCs. When connected to a PC, the webcam in the Studio Display will work as a …
Here's a Sneak Peek Inside Apple's New Studio Display
While we wait for repair website iFixit to finish its teardown of Apple's new Studio Display, MacRumors is able to provide a first look at the display's internal design with an image sourced from Apple's documentation for technicians. Three large boards are visible inside the Studio Display. The left and top-right boards are for power supply and the bottom-right one is the logic board…
Apple Executives Discuss How Mac Studio Fills the Gap Between iMac and Mac Pro
Apple's new Mac Studio desktop computer will begin arriving to customers this Friday. Ahead of the launch, TechCrunch's Matthew Panzarino spoke with a trio of senior Apple employees about the company's process of designing the Mac Studio. Just like the Mac Pro tower released in late 2019, the Mac Studio was born as a result of Apple's Pro Workflows Team that was created shortly after the…
Studio Display Add-On Height-Adjustable Stand Costs an Extra $400, Nano-Texture Glass is $300
Apple today introduced the Studio Display, a lower-cost display option that's meant to go along with the Mac Studio. The Studio Display is priced starting at $1,599, making it much more affordable than the Pro Display XDR, but not at the attractive $999 price point of the long-discontinued Thunderbolt Display. Though the base Studio Display is $1,599 for the display itself and an included…
Popular Stories
iCloud and Many Other Apple Services Are Down or Experiencing Issues [Resolved]
Apple is experiencing a widespread outage today, with a wide range of the company's services and apps down or experiencing issues currently. Affected services and apps include the App Store, iCloud, Siri, iMessage, iTunes Store, Apple Maps, Apple Music, Apple Podcasts, Apple Arcade, Apple Fitness+, Apple TV+, Find My, FaceTime, Notes, Stocks, and many others, according to complaints across…
iOS 15.4 Adds New 'Scan Text' Shortcut in Notes App
iOS 15.4 and iPadOS 15.4 were released to the public last week, and one new change is the addition of a "Scan Text" shortcut for quickly scanning printed or handwritten text into the Notes app on the iPhone and iPad. Apple recently shared a video with step-by-step instructions on how to use the Scan Text feature. On a device running iOS 15.4 or iPadOS 15.4, simply open the Notes app, tap the …
Apple Studio Display Contains 64GB of Storage, But Only 2GB Used
Apple's Studio Display contains 64GB of onboard storage, but only 2GB are actually used by the display, a developer has discovered. As highlighted by developer "Khaos Tian" on Twitter, the Studio Display only uses 2GB of its 64GB of internal NAND storage. Some free space is likely needed for firmware updates, but the 62GB of unused space is seemingly otherwise useless at the current time….
Third-Generation iPhone SE Teardown Reveals Larger Battery Capacity and Snapdragon X57 Modem
The first teardowns of the third-generation iPhone SE have surfaced on YouTube, providing a look at components inside the device. iPhone SE 2 on top vs. iPhone SE 3 on bottom via PBKreviews The teardowns reveal the new iPhone SE has a larger 2,018 mAh battery compared to 1,821 mAh for the previous-generation model. The new iPhone SE offers up to an extra two hours of video playback and up to…
Mac Studio Storage Not User-Upgradeable Due to Software Block [Updated]
Update: The Mac Studio requires an IPSW restore after changing its SSD modules to ensure that they are readable and able to boot. Running a Device Firmware Update (DFU) restore using the macOS IPSW package for the Mac Studio should enable the machine to boot from a different SSD, providing that both of the modules are of the same size and make, meaning that storage upgrades still appear to be…
Here's a Sneak Peek Inside Apple's New Studio Display
While we wait for repair website iFixit to finish its teardown of Apple's new Studio Display, MacRumors is able to provide a first look at the display's internal design with an image sourced from Apple's documentation for technicians. Three large boards are visible inside the Studio Display. The left and top-right boards are for power supply and the bottom-right one is the logic board…
Some iPad Air 5 Users Complain About Creaking and Build Quality Downgrade
Some fifth-generation iPad Air users are complaining about a purported downgrade in build quality, according to posts on social media. The complaints claim that the iPad Air has a noticeably thinner aluminum enclosure, resulting in creaking, a hollow sensation in the hand, and light pressure on the back of the device warping the display. A thread on Reddit (via iMore) contains a large number …